Mark Jensen's Deluxe Magic Show – Family Edition
Whether you are having a reunion, anniversary party or birthday party, Mark Jensen's Deluxe Magic Show is the perfect form of family entertainment.  Filled with mystifying magic and baffling mind reading, Mark's blend of comedy and mystery will entertain your guests, thrilling both the young in age and the young at heart.
Mark Jensen's Magical Board Game
Looking for something a bit different for the birthday party or family reunion you are planning?  Then you have to check out Mark's Magical Board Game.  The Game Board measures 16 feet by 20 feet and your friends and family will be the game pieces.  The game is non-stop fun with jokes, funny antics and magic.
Mark Jensen's Deluxe Intimate Magic Show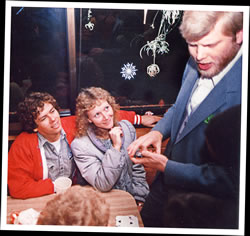 Ideally suited for small gatherings, the magic happens up close and personal.  Your guests will see the magic happen right in their own hands.
Private Magic Lessons
Mark is currently accepting a limited number of students who are interested in learning the art of magic and mentalism.  No matter your age, magic can make a great hobby.  Whether you want to learn a few tricks to show to friends and family or a few tricks to show to your clients, Mark's Private Lessons are just what you need.