Mark Jensen's Deluxe Magic Show – Organizational Edition
Custom designed to meet the needs of organizations, Mark Jensen's Deluxe Magic Show will have your members in stitches as they experience magic and mind reading that will have them screaming, "That's Impossible!!!"
Whether your organization is a school, club, charity or church, Mark's family friendly show is perfect for: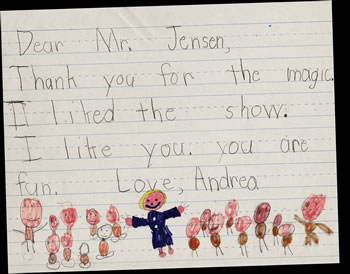 Banquets
Meeting Programs
Parties
Picnics
Reunions
"My first grade children were delighted, thrilled, and mystified. Even I haven't figured out just how you did your tricks. You certainly did a fine job!"

-- Karen Sjolund
Fund Raising
In today's economic climate, raising funds for your organization can be more challenging than ever.  Mark Jensen's Deluxe Magic Show is the perfect fund raising activity for your organization.  You and Mark will work together to ensure a successful and profitable event.
"Mark says the magic word: Abracadabra! And it's gone, vanished, disappeared. It may be the disappearing lady in the cabinet trick, the rabbit in the hat trick, or the magic wand changing into a bouquet of flowers. Whatever trick or illusion it is...Jensen loves making special magic."

- - Daily Chronicle, DeKalb, Illinois
Mark Jensen's Deluxe Magic School Program
Are you looking for that special program for your organization?  Then look no further.  Mark's program is perfect for participants of all ages.  During the program participants will learn:
Several cool magic tricks right out of Mark's professional repertoire
Fundamentals of public speaking and presentation
Some of the fascinating and often surprising history of magic
Mark's program promotes self-confidence, social skills and teamwork.  Participants have the opportunity to perform as part of a class magic show at the end of the program.