Mark Jensen's Deluxe Magic Show - Corporate Edition
Mark Jensen's Deluxe Magic Show delivers mystifying magic and unbelievable mind reading that will set your event apart.  Mark's unique blend of humor and audience participation ensures that everyone will have a great time. 
The Deluxe Magic Show, Corporate Edition is perfect for your company event:
Banquets
Conferences
Conventions
All Employee Picnics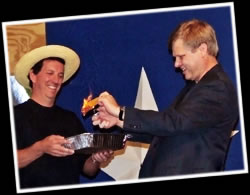 The show is G rated and perfect for your employees and customers, as well as their families.
For more information on booking Mark Jensen's Deluxe Magic Show, Corporate Edition, please click here.


"I would highly recommend Mark Jensen and his Deluxe Magic Show. Mark's show is really incredible and we were fortunate to have someone with Mark's capability to perform for our annual all employee picnic, as well as other company events throughout the year. It was truly fascinating, and even as CEO, Mark would never reveal his secrets to me! A wonderful show!"

-- Roger Stonecipher, CEO Lineage Power
Corporate Hospitality
Mark will perform intimate magic for small groups, with the magic happening right in their hands.  Whether you are having a client dinner or a banquet, Mark's Hospitality Magic will get your event started on the right note.  Perfect during cocktails or as people are gathering before the festivities begin.
Motivational Speaking
Process Improvement / Six Sigma
Mark's "Process Improvement – Making Your Problems Disappear" is a motivating talk, with a sprinkling of magic, on the benefits of Process Improvement and the pitfalls organizations face when implementing a process improvement or six sigma programs.  Mark has over 15 years experience developing and leading process improvement programs.  As a Certified Six Sigma Master Black Belt, Mark shares valuable lessons he has learned while implementing and managing Six Sigma programs at 3 major corporations.  Mark then provides you with his 5 keys to a successful program.
"I have received all types of training in professional and business settings. However, Mark Jensen's use of magic is exceptional. Through the use of magic, Mark instantly illustrates how to create success from what seemed impossible."

-- Trent T. Haywood, MD, JD, Senior Vice President & Chief Medical Officer, VHA Inc.
Change Management
Wouldn't it be great if you could just wave a magic wand and transform your organization into the world-class company you envision?  While it may not be quite that easy, Mark's Abracadabra – The Change Management Magician is an informative talk about change management and thinking outside the box to energize your transformation.  Add a bit of magic and mind reading and you are well on your way to becoming that company of the future.
Team Building
Mark's years of experience leading and mentoring teams will help your team bond and move into the performing stage of team development.  Your team will have fun, learn about each other and develop teamwork skills as they participate in one or more of Mark's Team Building Activities:
Improve your teams presentation skills while also learning some great magic tricks.
Play Mark's Corporate Shuffle Giant Board Game where the players are the game pieces. This can be customized to focus on several different topics, for example: Corporate Messages (Vision, Mission, etc.), Customer Service, or Diversity.
Mark's Reality Show - Teams compete in Mark's Magicial Version of today's reality TV shows.